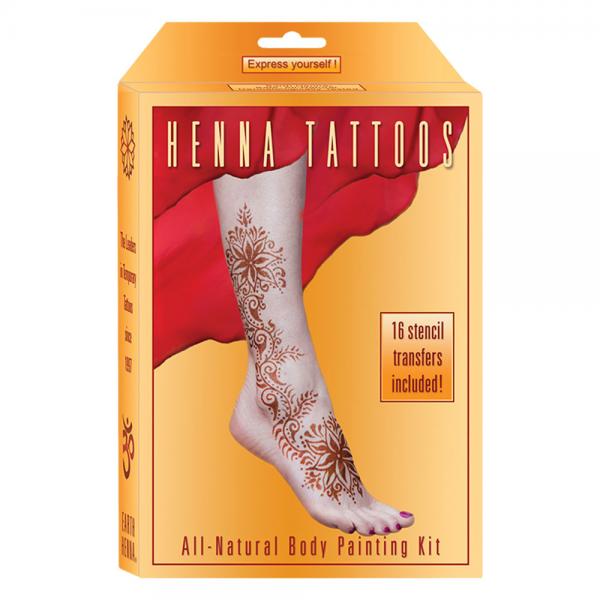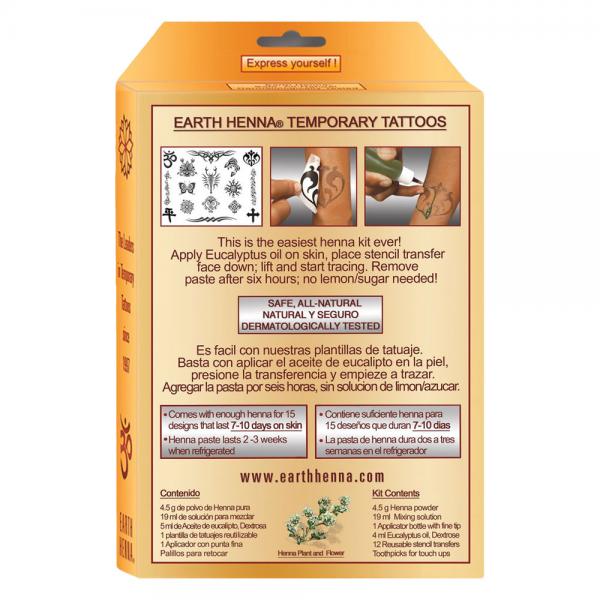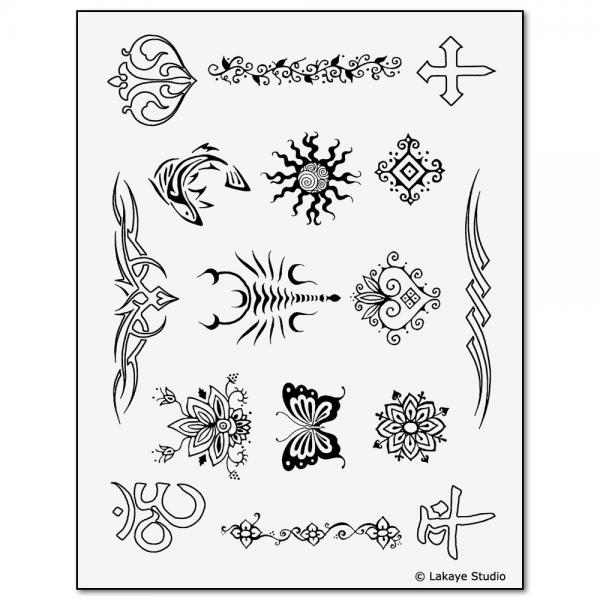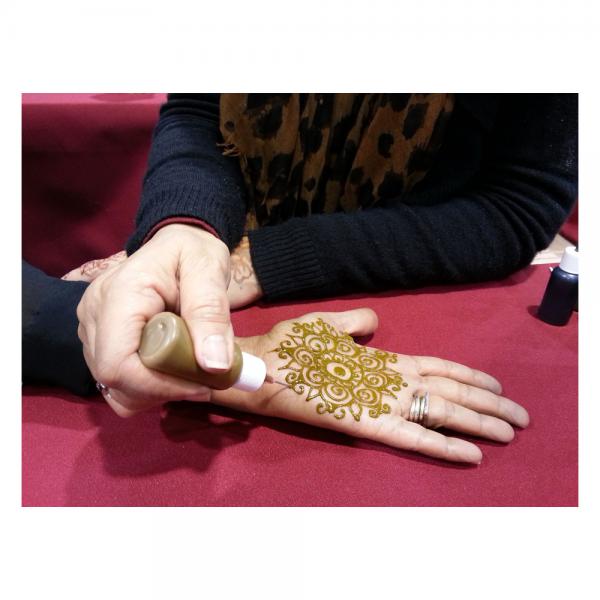 Earth Henna Classic Kit
This product is sold out.
The Earth Henna® Classic Temporary Tattoo Kit comes with everything needed to create beautiful henna designs anywhere on the body. Premium-grade henna powder is mixed with Earth Henna® Solution to make the henna paste. That paste is transferred into a soft plastic applicator bottle with a fine tip. To create your henna design, simply squeeze the bottle to release the paste.
Highlights of Earth Henna® Classic Temporary Tattoo Kit
Enough henna to create 15–20 designs that last 7–10 days on skin.
Henna powder and solution are pre-measured for perfect consistency every time.
Comes with applicator bottle and fine tip used by pros.
Comes with 16 stencil transfers that are reusable 5 times each.
Henna paste lasts 4 weeks, when refrigerated.
Dermatologically tested.
No pain, no permanence.
Perfect for creating gorgeous henna designs on the skin and festival body art.
Product Description
Henna Kit Contents:
5g henna powder
19 ml Earth Henna® solution
1 plastic cone bag
1 applicator bottle with fine tip
16 reusable stencils transfers
Flat toothpicks for touch-ups
How It Works:
For complete instructions on how to prepare the henna paste and apply a temporary tattoo (whether freehand or using a stencil), please see the video tutorial below. You can also download our printable Earth Henna® Kit Instruction Sheet with detailed, illustrated, step-by-step instructions for creating amazing temporary tattoos.
How To Use the Earth Henna Premium Kit & How To Use the New Thermal Transfer Sheet in Henna and Jagua Kits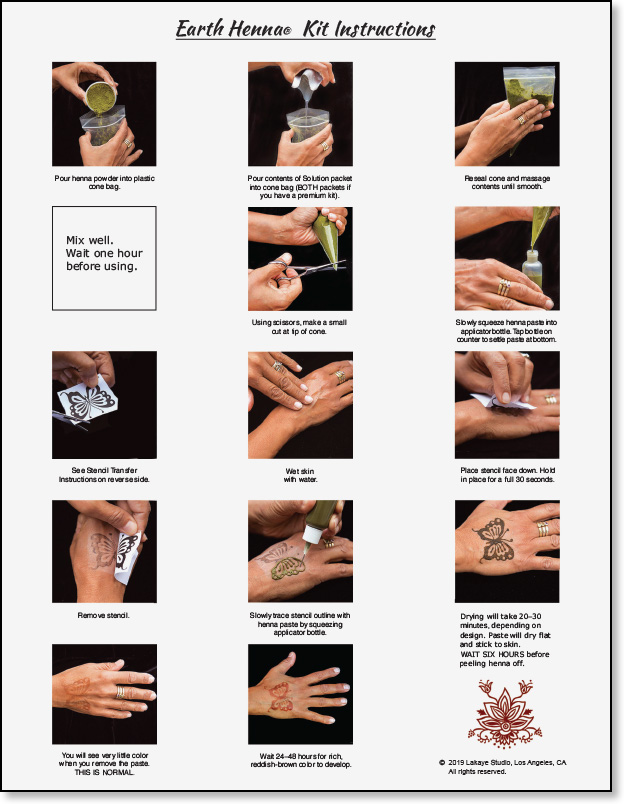 (Click to download instruction sheet)
Useful Tips:
Soak applicator tip in hot water after use to avoid clogging.
Use Q-tips to wipe away mistakes and toothpicks to even out lines.
Use straight pin or needle to clean or unclog metal tip.
If you are going to bed with henna paste still on, wrap area with bathroom tissue and tape to avoid staining sheets.
Henna permanently stains wood, fabric, and fingernails.
---
Ingredients
Henna powder, Water, Glycerin, Benzyl alcohol, Citric acid, Sodium citrate, Tetrasodium glutamate diacetate
Health Recommendations
Before using Earth Henna® paste, test product on small area first. Place a small amount of product. on the skin; leave on for 2–3 hours and rinse off with water. Wait 4–5 hours before proceeding.
If you are taking any medications, or have any known allergies, check with your doctor before using Earth Henna® paste.
We recommend waiting until your temporary tattoo has completely disappeared before making a second application on the same spot.
All persons using Earth Henna® paste should check the ingredients list for potential allergic reactions.
For external use only. Earth Henna® paste should not be taken internally.
Keep contents away from children.
Avoid contact with eyes. If this happens, flush with water.
---
Reviews
by C. Simmons on 07/24/19
by O. Santiago on 01/05/20
I bought the Henna and Jagua tattoos for my younger cousin for Christmas and they arrived pretty quickly. She said they were easy to use and worked great!
by O. Santiago on 01/05/20
I bought the Henna and Jagua tattoos for my younger cousin for Christmas and they arrived pretty quickly. She said they were easy to use and worked great!
by Stephanie C. on 05/05/20
Great for isolation activities! However, I would not recommend this kit for beginners ... the directions often refer to things that no longer come with the package, and the mix itself is very uneven (thick then thin) which makes it hard to do precise work. But as a boredom-relieving activity, it's a lot of fun to do and inexpensive.
My kit came really fast and well packaged. I love the easy to read instructions. Thank you for the beautiful service!
by Samantha Caudill on 06/04/20
I absolutely loved this kit! It was super easy to use and allowed me to practice on lots of people! Wonderful project
I love this product! It was my first time buying and I was satisfied. I felt fully equipped to do my own henna. It came with everything I needed and gave simple instructions. My end product looked amazing!! I love the applicator bottle especially.
Such an amazing product. Was exactly what I expected and the Henna works like magic! Super easy to use.