How to Apply Earth Jagua® Solution
Our Jagua Body Painting Kits come with everything you need to create beautiful temporary black tattoos that look just like the real thing—and nothing could be simpler! You just add water to the freeze-dried jagua juice, and then mix it with the base gel. When you're ready, transfer the solution into the soft plastic applicator bottle. To create a tattoo design on your skin, simply squeeze the bottle to release the jagua gel, and begin drawing with the fine tip. (To learn more, see our Jagua Info and Jagua FAQs pages.)
Step-by-step Instructions:
Cut tip of Earth Jagua® Base Gel foil packet.
Open plastic cone and place in a cup. Squeeze Base Gel into cone.
Using dropper, fill bottle with water to top of sticker.
Shake until dissolved, and pour contents of bottle into plastic cone.
Reseal and massage contents of cone until smooth. Push gel toward small tip of cone.
Cut small tip of cone, and squeeze gel slowly into bottle until full.
Twist cap outfitted with tip onto bottle.
Create design on skin by gently squeezing bottle to release gel.
Once design is completed:
Gel will take 30–40 minutes to dry. It will dry flat and stick to skin. (Be very careful not to smudge design while wet!)
Wait 2 hours.
Peel off Earth Jagua® Gel from skin with fingers.
YOU WILL SEE VERY LITTLE COLOR WHEN YOU REMOVE THE GEL. THIS IS NORMAL! Blue/black color will fully develop in 24–48 hours.
Useful Tips:
Start with clean, dry skin. Remove any lotion.
Remove Earth Jagua® Gel before going to bed. For first night only, wrap or cover the area with bathroom tissue and tape to avoid staining sheets or other areas of your body with which it may come in contact.
When creating tattoo, use toothpicks to even out lines.
Jagua stains very quickly. Wipe off all smudges immediately.
To avoid clogging, soak metal tip in hot water after use.
Before storing, squeeze air out of the bottle and twist cap on.
To make your tattoos last as long as possible:
Avoid saunas and steam rooms, or you can cover the tattoo with Vaseline.
Avoid skin scrubs and exfoliation products.
Wash and dry tattoo area gently when showering.
Other helpful information:
Earth Jagua® does not contain PPD or any other toxic chemicals.
Earth Jagua® is not "black henna" nor does it contain henna.
Using Earth Jagua® is totally pain-free.
Earth Jagua® shows up perfectly on dark skin.
No trees were cut down to create this product. The fruit used would naturally fall to the ground and rot. We have helped to create a cash crop for the Matsés people in the Amazon.
Before using Earth Jagua® Gel, test product on small area first to make sure you have no allergic reaction to this fruit-based solution. Place a small amount of product on the skin; leave on for 2–3 hours and rinse off with water. Wait 4–5 hours before proceeding.
Try your hand at jagua body painting today!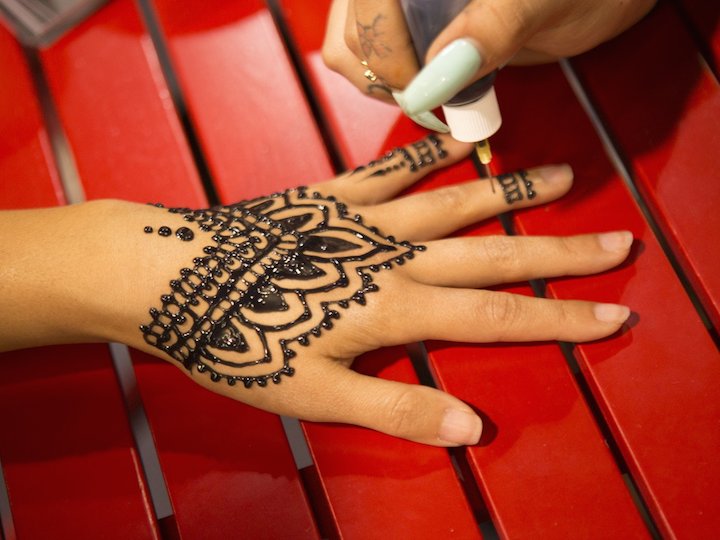 "The people who fall in love with Amazonian culture also help to light the way into the dense and thickly wooded place, which has beguiled so many, yet still manages to retain its secrets."
~ Carine Fabius
Jagua: A Journey into Body Art
from the Amazon