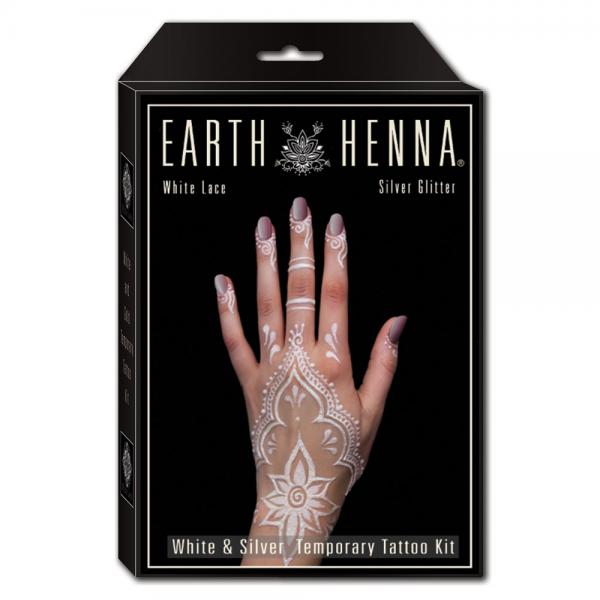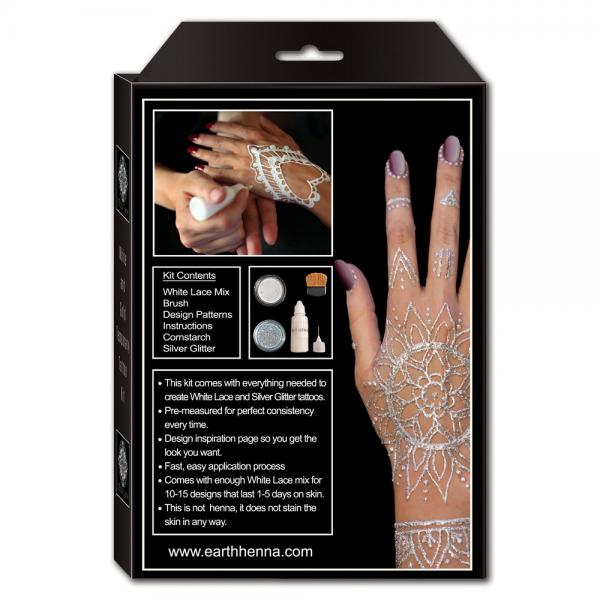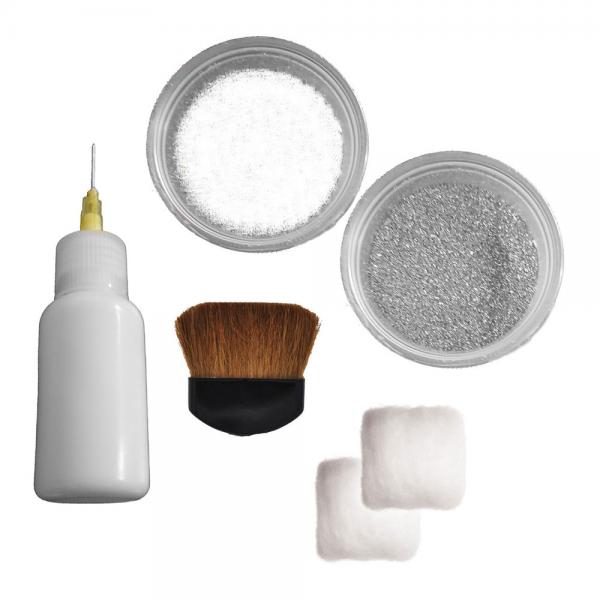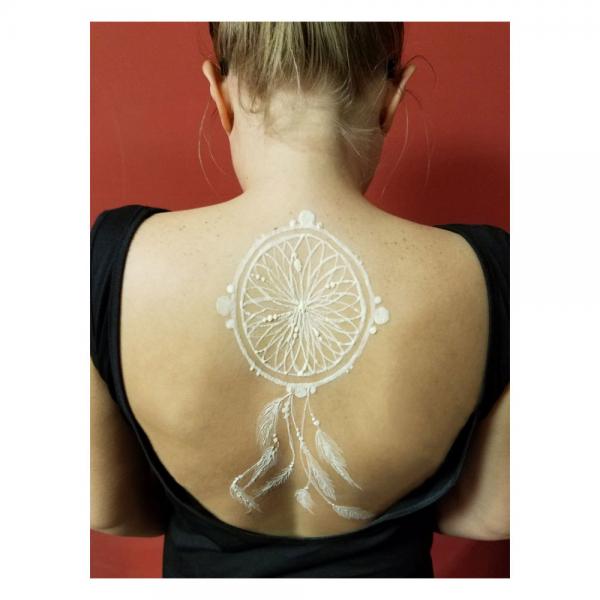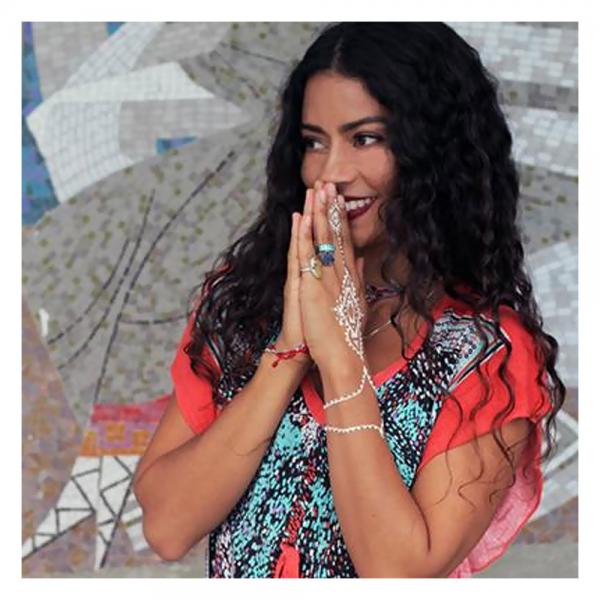 White & Silver Henna Kit
This product is sold out.
Quickly create gorgeous temporary white tattoos that look like elegant lace on the skin with our White Lace & Silver Glitter Henna Temporary Tattoo Kit!
Often referred to as "white henna" because of the henna-inspired designs created with the product, these White Lace Tattoos differ from true henna in that they actually sit on top of the skin. The tattoos are applied just like henna, but the mixture—which is made up of FDA-approved body paint and skin-safe adhesive—dries almost instantly once applied. Earth Henna™ White Lace Tattoos do not stain the skin, and they last 1–5 days.
By themselves, temporary tattoos created with the kit are as beautiful as lace—or you can apply silver glitter over your white henna design for extra dazzle! The Earth Henna™ White Lace & Silver Glitter Temporary Tattoo Kit is ideal for creating eye-catching festival body art or for special events such as parties, weddings, or vacations!
For further info on the product, see our Frequently Asked Questions below.
Product Description
White & Silver Henna Kit Contents:
White Lace solution
Silver glitter
Corn starch
Applicator tip
Cotton ball
Small makeup brush
Sheet of tattoo design patterns
Complete printed instructions
How It Works:
Start with clean, dry skin.
Remove cap and replace with twist-on applicator tip.
Squeeze bottle to expel solution and create design.
Wait for design to dry (in approximately 10 minutes). Be careful not to smudge it! The design will feel tacky to the touch.
Dip cotton ball in cornstarch/silver glitter provided and lightly dust design.
Brush off excess cornstarch/silver glitter with the makeup brush provided.
You're done! Rinse out tip and replace original cap on bottle. Store in dry place.
Useful Tips:
Do not use on hairy areas, as it will hurt when you peel off the dried solution.
To prevent clogging of tip, rinse out immediately or soak in hot water. You may want to use a pin to unclog or remove any excess product.
---
Ingredients
White Lace Tattoos® mix:
Water
100% virgin latex (with 0.3% ammonia added as a stabilizer and preservative
Acrylic emulsion (non-hazardous)
Glycerol
Guar gum
Sorbitol
Titanium dioxide
Benzyl alcohol
Propanediol (plant-based coagulant)
Cornstarch
Glitter:
Polyethylene terephthalate film (opaque/metallic)
Health Recommendations
Check ingredients list above for potential allergic reactions.
Before applying Earth Henna White Lace Tattoos®, do a patch test first. Place a small amount of product on the skin; leave on for 2–3 hours and rinse off with water. Wait 4–5 hours before proceeding.
If you are taking any medications, or have known allergies, check with your doctor before applying White Lace Tattoos®.
For external use only. White Lace Tattoos® solution should not be taken internally.
Keep contents away from children.
Avoid contact with eyes. If this happens, flush with water.
---
FAQs about White Lace Tattoos®, aka "White Henna"
Q: What is "white henna"?
A: Actually, there is no such thing as white henna. Henna is a plant that stains the skin a reddish-brown color. Although photos of so-called white henna are all over the internet, those designs are created with a mix of body paint and glue, which do not stain the skin.
Q: Why do people call it "white henna"?
A: Since the designs made with white henna solutions often LOOK like traditional henna designs, people wrongly assume that one can stain the skin white with it, and that it will last 10 days (just like real henna).
Q: What are "White Lace Tattoos"?
A: Earth Henna White Lace Tattoos® are created using a mix of FDA-approved body art paint and a non-toxic adhesive, which is safe for use on skin.
Q: How long do the designs last?
A: White Lace Tattoos® last 1–5 days. They are water-resistant, but designs on fingers and hands will come off more quickly than from other body parts due to normal washing and rubbing. Think of them as short-term body adornments, like jewelry or clothing accessories, that you would wear for a special event such as a party, wedding, or festival.
Q: How do they feel?
A: There is a slight texture to the designs, but they dry flat; and even though it will look like you're wearing white lace gloves (if on the hands), you'll forget it's there!
Q: How can I remove a White Lace Tattoo®?
A: Just let it fall off on its own. You can also peel it off or rinse it off with warm water and soap, leaving no stain behind.
Q: How long does the White Lace Tattoo® solution last?
A: It should easily last six months or more if stored properly in a cool, dry place, such as a kitchen cabinet. Keep it away from extreme heat (near a stove or radiator) and cold (inside a refrigerator or freezer).